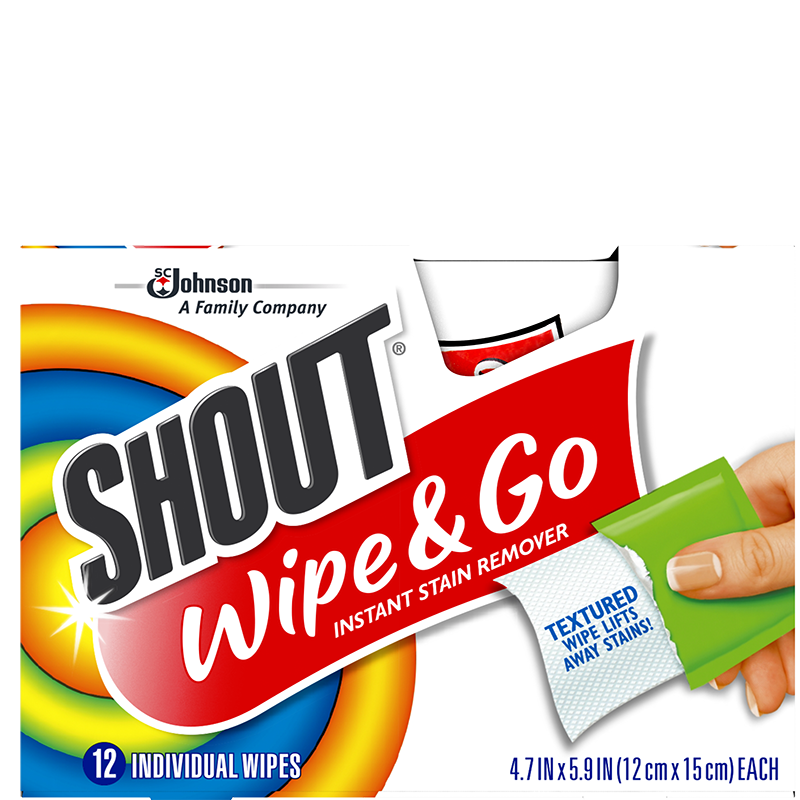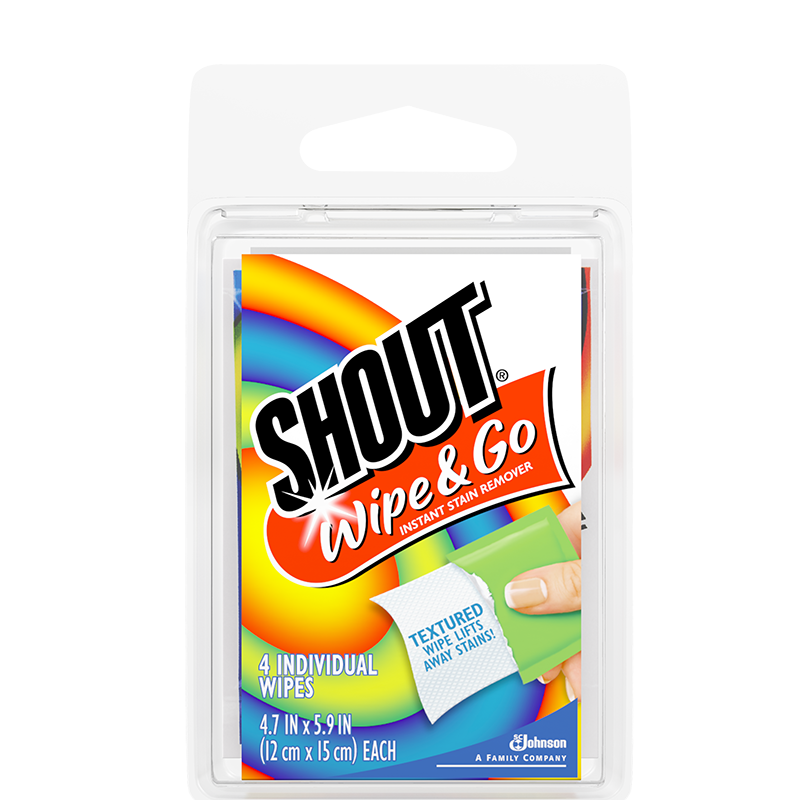 Shout® Wipe & Go
Life's fun opportunities happen anywhere, at any time—and messes are just as spontaneous. Portable Shout® Wipe & Go remove on-the-go stains right away. Wherever stains happen, Shout® Wipe & Go are there—just use a Shout® Wipe and go!
Individually packaged and portable—with no washing required—making it perfect for those out-of-home stains
Textured, double-sided cloth helps break up stains so they're easier to lift and remove from fabric
Ideal for on-the-go stains like makeup, orange juice, blood, and red wine
Perfect for clothing, carpet and auto interiors
Can be moistened with water and re-used to treat yellow halos that appear around stains
Tough on stains, but gentle on your fabric
Safe for all colorfast washables and works in all water temperatures.
Learn about the ingredients in this product so you can make informed choices for your family and home.
1. Remove excess stain
2. Apply Shout® Wipe & Go from the outside of the stain working towards the center
FOR BEST RESULTS: Treat stains shortly after they occur. Place a dry cloth or towel under the stain while treating. Remove excess moisture by blotting with a dry cloth. If a ring appears, moisten SHOUT® Wipe & Go with warm water and gently wipe around the edges of the stain. Blot again to remove excess moisture. For carpeting and fabric with a nap (like velvet & chenille), blot only (do not rub).

IMPORTANT: DO NOT USE ON UPHOLSTERED HOME FURNITURE. Safe for all colorfast washable and dry cleanable fabrics. For delicate fabrics (like silk or rayon), test on a hidden area of the surface prior to use. Stains like rust, bleach damage, dried paint, ink or dyes may be impossible to remove.

KEEP OUT OF THE REACH OF CHILDREN AND PETS.