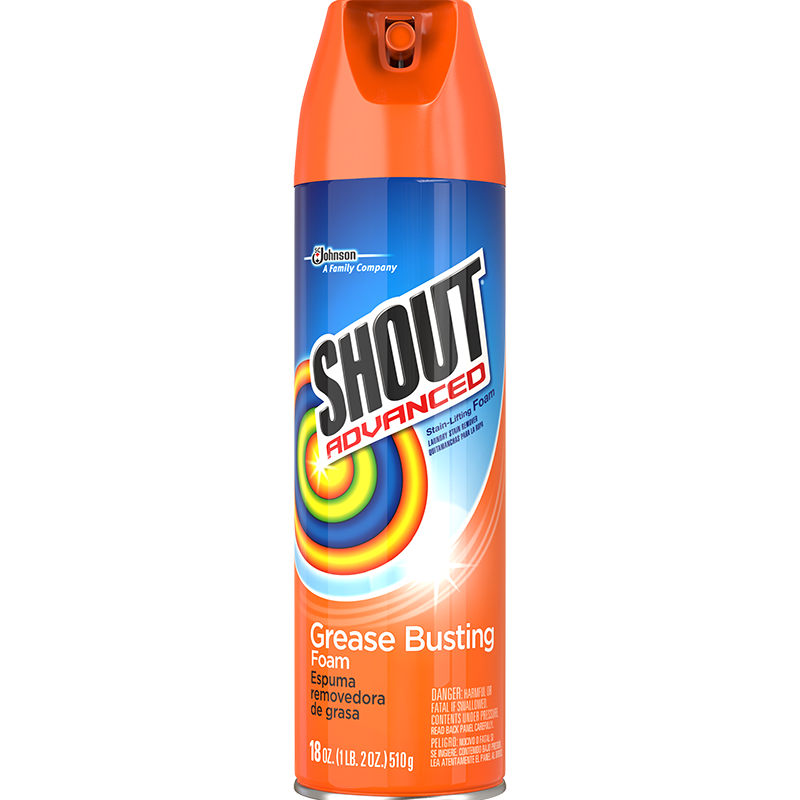 Shout® Advanced Grease Busting Foam
Grease stains usually happen from the fun stuff, like food and cars. Shout® Advanced Grease Busting Foam is specially formulated to remove tough grease stains like machine oil, greasy food and spaghetti sauce. So don't miss out on that greasy goodness in fear of a little stain!
Three powerful stain removing ingredients formulated to dissolve grease stains
Our only stain remover product specifically designed for grease & oil stains
Foaming action lifts and removes stains from clothing
Tough on stains, but gentle on your fabric
Safe for all colorfast washables and works in all water temperatures.
Learn about the ingredients in this product so you can make informed choices for your family and home.
1. SHAKE CAN. Hold can at 45º angle, 6 inches from fabric and spray. Thoroughly saturate soiled area
2. Wait 1-5 minutes depending upon the severity of the stain. Launder in regular detergent. Do not allow Shout® Advanced Grease Busting Foam to dry before laundering
DANGER: HARMFUL OR FATAL IF SWALLOWED. Contains petroleum distillate. Do not taste or swallow. Avoid prolonged breathing of vapors. May also cause skin and eye irritation. Avoid contact with skin and eyes.
CONTENTS UNDER PRESSURE. Contains propellant. Do not use near fire, flame, or pilot light. Do not set on stove or radiator or keep where temperature will exceed 120ºF as container may burst. Do not puncture or incinerate.
FIRST AID: If swallowed, do not induce vomiting. Call Physician immediately. If in eyes or on skin, rinse thoroughly with water. If irritation persists, get medical attention.
KEEP OUT OF REACH OF CHILDREN AND PETS.